Toronto Yard Signs
VIEW GALLERY
Do you need to advertise a special event, a business, or a political candidate?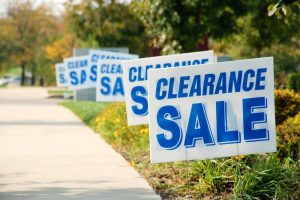 Yard signs are one of the most effective and inexpensive ways of promoting whatever you want. You can also use these signs to educate your target audience about the mission and the values of your company, without needing to spend much money on creating and distributing marketing materials.
Made 2 Measure Signworks creates effective, eye-catching signage solutions to meet all of your Toronto business needs! Our top-notch equipment and our experienced technicians enable us to develop high-quality yard signs and any other type of marketing and promotional materials your business may need.
Call Made 2 Measure Signworks today at (647) 699-7654 for your Free Consultation with a Yard Sign Specialist!
Promotional Signs for Business
Whatever the industry you're in, yard signs can be an efficient way to send out your messages to your target audience. We design the most eye-catching and effective signs that will take your branding and your whole business to the next level. We work with retail stores, non-profit organizations, services providers, and many other types of local businesses.
Here's what a compelling yard sign can do for you:
Create awareness for your next important event or special promotion
Advertise your new or discounted products or services
Inform passersby about various things such as parking lots
Let everyone know about your construction business while on-site
We are a full-service sign shop, and this means we are going to take care of your entire signage project, from start to finish. If you want, we can create a design and a graphic concept for your yard signs. If you already have the ready-to-print files, we are happy to use them. We will do everything in our power to deliver the highest quality work possible, within the agreed deadlines all within your budget!
Custom Real Estate Signage
Among all companies that use yard signs, real estate agents are the ones that utilize this inexpensive yet effective promotional tool the most.
These agents use yard signs to advertise homes or businesses for sale, open houses, and other special events.
We can do more than customizing your signs according to your needs; we can also provide you with custom sign holders. We are also experts in storefront signs, outdoor banners, indoor advertising materials, front desk signs, wall murals, and many other such materials. It's our goal to become your one-stop shop for all your signage projects.
Political & Campaign Signs
Yard signs are prevalent during elections, due to their effectiveness and relatively low price. Candidates prefer these signs because of their excellent portability, as they are very easy to hand out during rallies or special events. These signs can boost your visibility, and determine more people to vote for you.
Free Yard Sign Consultation
With us, you can forget about ordering online and waiting for weeks to get your materials. We offer you speedy service and local pickup. We create "mockups" of your final project, so you know precisely what you're ordering. Just get in touch with us today, and let us create the yard signs you need to showcase your most important messages. Your success depends on the quality of your marketing materials, so make sure you pick the right Toronto sign and graphics agency to help you.
Call Made 2 Measure Signworks today at (647) 699-7654 for your Free Consultation with a Yard Sign Specialist!