Toronto Custom Office Signs & Graphics
VIEW GALLERY
Made 2 Measure Signworks offers a wealth of captivating and compelling signs for all your business needs!
Although a business may use a wide range of signs, all these individual materials need to be in line with their branding and with all their other promotional tools. We acknowledge this need, and we strive to offer our customers the best signs to suit their specific requirements.
Made 2 Measure Signworks is the only Toronto signage agency you'll ever need!
Call Made 2 Measure Signworks today at (647) 699-7654 for a Free Consultation with an Office Signs Expert!
What Signs Does My Office Need?
Office signs come in many sizes and shapes. Your business may not need all of them. We can help you choose the right mix for your specific activity, in line with the best practices in your industry.
Here are a few of the typical business signs most companies use:
Front desk and lobby logos
ADA signs
Wall murals and floor designs
Identification and directory signs




Business office signs can help you accomplish various goals. You can use them to strengthen your brand identity, to communicate your values, or to help your visitors find their way throughout your building. You can also use them to improve the way your clients and prospects perceive your company. You may be legally required to install specific signs. This is why you should pick a trustworthy and knowledgeable signage expert for all of your signage needs.
Creating Impactful Office Signage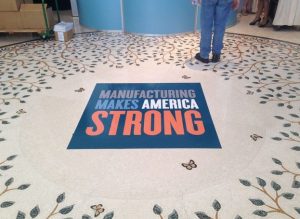 To offer you what you need, we need to understand your business, the location of your signage, intended use, and any existing signage elements. This is why we always start with a free consultation, in which we try to get to know you better. Next, we come back to you with a project design plan built to your specific needs.
Made 2 Measure Signworks supports new companies and established businesses alike with the creation of impactful signage to help them make a difference and attract more customers.
For All Types of Offices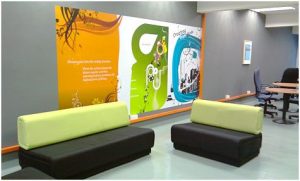 We are aware that different office types have different signage needs and requirements. We know the best practices for various organizations such as schools, healthcare providers, business offices, retail stores, and corporate headquarters.
Whatever your business, Made 2 Measure Signworks will develop the right materials to bring you one step closer to achieving your goals.
Do you have more than one office, and you want all of them outfitted with cohesive signs? You've come to the right place! Our experts will develop a signage collection solution and will assist you with its installation, and any other support you may need.
Local Full-Service Signage Provider
Made 2 Measure Signworks has the skills and the knowledge to cater to all your business signage needs. Whether you are seeking a single sign or you want a complete signage blend, we are here for you. Contact us to schedule your free consultation, and start exceeding your marketing goals!
Our skilled Toronto, ON signage professionals will identify and design the right signs for your business. However, if you already have your graphics, we are happy to manufacture and install your materials, for a professional and polished look.
Free Office Sign Consultation
Made 2 Measure Signworks is your trustworthy source of high-quality Toronto business signs. Our experienced teams are ready and willing to offer you full support and assistance in creating the best signage products possible.
Call Made 2 Measure Signworks today at (647) 699-7654 for a Free Consultation with an Office Signs Expert!