Pickering Vinyl Wraps
VIEW GALLERY
Made 2 Measure Signworks, designs vinyl wraps that match up to any marketing requirement you may have for your business!
Regardless of whether you are in search of vinyl films for the windows in your business, fleet cohesive vehicle wraps, vinyl wraps for places like the break-room refrigerator in your business, or you are interested in large branded messages for smooth surfaces, our Pickering sign company supplies the perfect solutions and products for you. We have a team of dedicated and driven vinyl experts that are ready to help you with innovative and unique vinyl branded solutions.
Maybe you would like your entrance walls, tables or your front reception desk wrapped in a custom design, we have team members that are experienced vinyl-wrap specialists who are here to guide you on just the right type of vinyl materials, and are here to help you with the creation, fabrication along with professional installations that guarantee wrapped products that not only appear highly professional but reflect your specific brand and company image.
Call Made 2 Measure Signworks today at (647) 699-7654 for a Free Consultation with a Vinyl Wrap Expert!
Vehicle Wraps & Graphics
The right vinyl wraps are perfect for publicizing your company as well as a direct way to maximize customer perception as well as confidence. When you run a business that involves visiting your customers in their houses, such as exterminators, electricians, cable-installation teams, or plumbers, some customers may be hesitant when it comes to allowing an unbranded vehicle onto the property. However, with a professional and eye-catching vinyl wrap, your customers can confirm who you are and will feel confident about allowing you access to their houses.
Our expert vehicle-wrap services entail the following:
The advertisement wraps designed for business vehicles have increased in popularity over the last few years across just about every industry. A few industries that depend on vehicle wraps include; delivery vehicles, dry cleaners, handymen, landscapers, electricians, plumbers, cable companies, mobile hairdressers and more.
We believe that all companies can make use of vinyl vehicle-graphics or vehicle wraps. We provide products that include full-vehicle wraps or wraps for your entire fleet. Or even if you only need 1 or 2 vinyl graphics, Made 2 Measure Signworks is here to provide you with impactful graphics along with vinyl signage that helps promote and grow your business to new heights.
Vinyl Wraps Suitable For All Types Of Surfaces
Your business vehicles are just one way you can make use of vinyl to advertise your company, improve customer experiences as well as maximizing visibility. Made 2 Measure Signworks offer versatile vinyl solutions when it comes to all aspects involving your company, from your tables to your walls, windows, and floors, along with all smooth surfaces that include acrylic, metal, carpet, plastic, tile, wood, concrete along with more!




Today there is a vast array of companies that use these vinyl wraps for creating appealing murals to promote their businesses. They are commonly seen in conference rooms, break-rooms, windows, and hallways. These highly impactful and large-format vinyl signage serve the purpose of informing, relaxing, or informing your visitors, your employees, and your customers. The vinyl wall murals are durable, resistant to dirt and traffic and work well even in areas that receive the highest-traffic.
Custom Wrap Company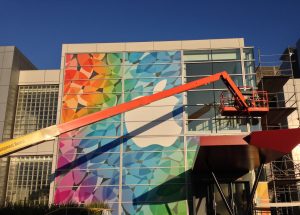 Our full-service Pickering, ON vinyl signage and graphics store handles each step of the process of your personalized vinyl-wrap project. This begins with a professional vinyl consultation for free, where we listen to what ideas, concerns and goals and needs that you have. The information you give us allows for our staff to suggest the perfect vinyl products for their intended use and within your budget. With so many vinyl options available, we make recommendations to narrowing down your choices and then present to you the options that best fit your needs.
Our company specializes in fully comprehensive design services when it comes to graphics as well as vinyl signage, working alongside you, we ensure your needs are met. Our staff can work with your established brand guidelines, or we can help you create a unique brand guideline that professionally represents your company. As soon as we receive the final approval from you regarding your design, we have fabrication staff on site that will produce your wraps quickly to your exact specifications.
Over-and-above the variety of vinyl products we provide, we also specialize in professional installations that make sure your end product is free from wrinkles, creases, bubbles or warping. We also make sure the signage is aligned professionally and accurately reflects the hard work you put into your brand.
Free Vinyl Wrap Consultation
Made 2 Measure Signworks can become your local preferred partner for outstanding, professional and eye-catching vinyl wraps that match up to all the needs of your business. We can't wait to offer you with a valuable service, with the goal of becoming your Pickering signage provider for the life-span of your unique business.
Call Made 2 Measure Signworks today at (647) 699-7654 for a Free Consultation with a Vinyl Wrap Expert!