Stouffville Junction Outdoor Signs
VIEW GALLERY
Your #1 way to attract new customers and clients is by the outdoor signage you choose. If you want to drive traffic to your doors, Made 2 Measure Signworks will create impactful signage solutions for you!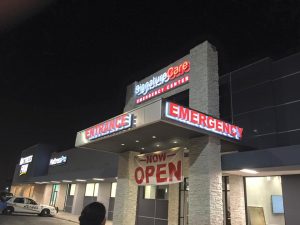 We create effective, attractive brand promoting building signage. Whether you need portable signage, window displays, outdoor banners, storefront signs, yard signs, or vehicle wraps, we have the solution you need to grow your business and improve your bottom line.
To customize your sign to fit your needs, we work within your brand guidelines, utilizing your logos, fonts, and colours throughout your signage elements. Consistency is imperative when reinforcing your brand and impressing your customers.
When you need eye-catching Stouffville Junction outdoor signage, Made 2 Measure Signworks is your go-to partner, for all of your signage solutions.
Call Made 2 Measure Signworks at (647) 699-7654 for a Free Consultation with an Outdoor Sign Specialist!
Storefront & Building Signs

It can be very challenging choosing the right storefront sign. With so many exterior sign options to choose from, you are presented with many decisions regarding size, style, and even placement.
We understand that not every business has the same needs, so we work with each client to find the right custom sign based on your location, brand personality, and budget, to determine which sign type will best fit your needs.
Your customers and goals are what drive your business. We work with you to find signage elements that will assist you with that task. We take into consideration your target audience, location, your signs intended purpose, and budget, in order to craft the ideal solution for you.
Channel Letters & Dimensional Letters
Dimensional letters and channel letters are our most common requests among various industries. These signs are highly-customizable and provide an attractive finish that lends professionalism to the facade of your building. These signs can be cut into numbers, letters, symbols or your logo to change a plain storefront into an edgy, appealing entrance.
These signs are custom made for your brand and business, allowing you to change everything from the colours, fonts, placement and the text itself. Our experienced design team will provide recommendations every step of your signage process to ensure you receive an effective sign to drive your target audience to your business.
Channel letters work well for all business types and locations and are an extremely versatile and highly-customizable option for any brand.
Lighted Signs
Most businesses operate throughout the day and into the night. When night begins to fall, a lighted sign is your solution to attracting customers regardless of weather condition or time!
Made 2 Measure Signworks offers various lighted sign options, including backlit dimensional letters, cabinet signs, illuminated channel letters, and even message boards and digital displays.
Are you an edgy company looking for the feel of neon, but find the cost of maintaining one too expensive? LED signs are designed to mimic the look of neon without the heavy cost associated with repairs and maintenance of neon. These signs are budget-friendly and consume less power while producing far less waste.
Lighted signs are ideal for restaurants, comedy clubs, bars, nightclubs, convenience stores, gas stations, retail businesses, and more.
Canopy & Awning Signs
If you're looking for a way to protect your visitors and storefront from the elements, while displaying your brand and business in a unique way, canopy signs may be your solution.
While awning signs can be crafted using various different materials, most are made using stretched canvas which provides an overhang to your windows and entrance. Your business name, brand, and logo can adorn your awnings, to provide a beautiful, professional look.
Awnings are often chosen to emulate the boutique feel and are popular among specialty shops, salons, jeweler stores, galleries, hotels or shopping centers that require uniformity.
Monument Signs
Are you looking for an impressive entrance for your organization or business? Monument signs provide an attractive, durable way to display your business name, address, or other information with fitted letters, panels, or even etched information.
Monument signs can be outfitted with lighting, message boards or crafted of solid materials, allowing us to fabricate an ideal monument sign to fit your brand personality, location, and desires. Whether you want a funky lighted sign, or a powerful marble sign, Made 2 Measure Signworks will create it!
Monument signs are typically situated in front of manufacturing plants, corporate offices, schools and universities, government buildings, private clubs, resorts, and churches.
Pole Signs & Pylon Signs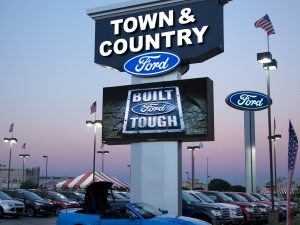 When you need to increase foot traffic through greater visibility, there are very few options that can match up to a pole sign. Pole signs, pylon signs, and tenant signs are a powerful way of increasing visibility along great distances, capitalizing on missed opportunities, and drawing in potential customers like moths to a flame.
These signs tower high above your competition and are able to reach a greater audience for buildings or businesses who don't have road frontage or are situated along major highways and roadways. The signs come in a variety of shapes, sizes, heights, and display types!
Pole signs offer the greatest visibility for businesses. They are often used to draw attention to shopping centers, fast food, supermarkets, gas stations, and businesses not easily seen from the road.
Complete Exterior Signage Provider
Outdoor signage can benefit any business or brand by increasing their customer perception and visibility. Whether you need signage for brand identification, or promotional signage to inform customers about upcoming or ongoing events, Made 2 Measure Signworks will create the perfect signage solution for all of your business needs.
We craft every kind of outdoor sign you can imagine, from yard signs to vehicle wraps, vinyl window signs, to A-frame signs, real estate signs to post and panel, any business sign you need, we will make it!
Want a cohesive look with attractive indoor signs as well? We can make that happen! Regardless of need, Made 2 Measure Signworks is here!
Our other exterior signs include:
This list is an example of the range of outdoor signage solutions we have, so if you don't see the sign you're looking for, we can still create it! We have the knowledge, resources, and tools to create any type of signage solution you could ever need. Our dedicated consultants and project managers are here to take your ideas and make them a reality!
Full-Service Exterior Sign Company
Made 2 Measure Signworks is a full-service Stouffville Junction, ON sign company. We provide a wide selection of outdoor signs for any of your business needs. Our goal is to provide you with superior signage solutions. We work with you during every step of your signage project from initial design concept, through manufacturing and into the installation, to ensure that your sign does exactly what you want and fits your brand and business guidelines.
You don't need to employ a graphic designer to work with us. We provide full design services, creating the correct file size and type for quick printing on our sign equipment. We help with design of your outdoor banners, real estate signs, lighted exterior signs, storefront signage and any sign element solution you need. Our expert team of graphic designers are adept at creating exterior signage for any purpose regardless of industry.
Our sign production shop is located right here in Stouffville Junction, which allows us to ensure that your signage project is manufactured according to your approved proof. We provide full sign fabrication services, including sourcing any additional support structures or elements your signage project needs. If any permits are required for the installation of your signage, we will handle the process of acquiring them.
Made 2 Measure Signworks also employs a full staff of knowledgeable sign installers, dedicated to ensuring your signage project is securely fastened, properly installed, and that we leave our work area as clean as it was when we arrived. We want your sign to provide years of quality service to your business, and a properly installed sign is the only way to achieve that goal, so we take every measure to ensure a complete and safe installation.
Free Outdoor Sign Consultation
Made 2 Measure Signworks strives to create attractive, impactful signage solutions for all of your business needs. We focus on creating high-quality, eye-catching signage that supports your marketing goals by increasing business visibility that leads to increased customer traffic. We are eager to discuss your Stouffville Junction business needs and goals. Our goal is to craft the perfect sign to fit your business needs.
Call Made 2 Measure Signworks at (647) 699-7654 for a Free Consultation with an Outdoor Sign Specialist!