Weston Post & Panel Signs
VIEW GALLERY
A cost-effective and versatile option, post and panel signs are becoming a popular choice for promoting your brand, business, and services to both potential and established customers. Turn passerbys into customers with attractive, custom panel signs by Made 2 Measure Signworks, your trusted Weston sign company!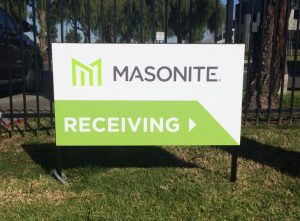 As post and panel signs specialists, we work hard to deliver you signage that supports your brand promotion and business marketing desires. The signs that we develop are specific to your business needs and are customized depending on your requested visibility and durability. Promote your business and increase brand visibility with unique, attractive post and panel signs!
Providing complete post and panel sign systems, we also update your existing sign panels with new images or messaging. Whether you just need a signpost, panel signs, post bases, or even replacement post finials, Made 2 Measure Signworks keeps your signage looking great.
Call Made 2 Measure Signworks today at (647) 699-7654 for your Free Consultation!
Effective Wayfinding and Directional Signs
Helpful wayfinding signs and directories support guests who may not know their way around your facilities by clearly showing the way. Weston, ON post and panel signs are perfect for supporting navigation for many company types.
Built to be visible, post and panel signs tend to be the most economical way to support your customers and visitors in locating various locations within your facilities. With our years of experience in the sign and graphics industry, we understand the intricacies of developing effective wayfinding signs that complement your other brand marketing. We use your unique branding elements and dynamic shapes and sizes to build you outstanding wayfinding and directional signs and graphics. Navigational post and panel signs make it easy for new customers to find their way to you!
Signs That Showcase Your Brand
Reassure customers, visitors, and guests that they are in the right spot. A more cost-effective option than a marble monument sign but offering the same impact, post and panel signs are a high-value choice for getting your brand and business noticed.
With their type, material, size, shape, color, and location, post and panel signs attract attention and reinforce your branding concurrently. Made 2 Measure Signworks also customizes the signs to convey your brand message. We provide many options for custom post and panel signs, for instance, carved or sandblasted wood signs, lighted sign panels, curved or flat metal panels, PVC posts and panels, and many other options.
Made 2 Measure Signworks also knows that business identification signs are often fixed structures, this is why our products are long-lasting, allowing us to supply the ideal solution for your outdoor business sign needs.
Low-Cost Outdoor Signs
For those who are seeking less permanent outdoor signs, post and panel signs may provide a durable option for your organization. Made 2 Measure Signworks delivers several cost-effective possibilities such as PVC signage with cut vinyl graphics. These elements are typically less expensive than aluminum or metal sign panels, but they do the job and can withstand the elements way better than just wood post signs.
Post and panel signs are a popular favorite for business identification signs, real estate, construction sites, promotional purposes, and other areas where signs and graphics are frequently replaced or updated.
Full-Service Sign Company
We provide the right signage solutions to assist with your brand goals. Our signage services are tailored specifically to your ideal timeframe, budget, and market.
With our reliable team of signage professionals, Made 2 Measure Signworks assists you with the whole process. From initial concept to design, fabrication, placement, and expert installation, we are the right provider for all of your sign and graphics needs. When you must have signs and graphics that is completed right and on time, check out Made 2 Measure Signworks.
Free Post and Panel Signs Consultation
Draw attention to your Weston company with brand-focused, high visibility signage elements like custom post and panel signs by Made 2 Measure Signworks! Taking care of every aspect of your project, we generate brand building and promotional sign and graphics products that reinforce your company objectives.
Call Made 2 Measure Signworks today at (647) 699-7654 for your Free Consultation with a Post and Panel Signs Expert!