Scarborough Township Business Signs
VIEW GALLERY
Business signs that look good are the best way to build your brand and make more money. With attractive commercial signs and graphics, you get noticed and people are going to know who you are.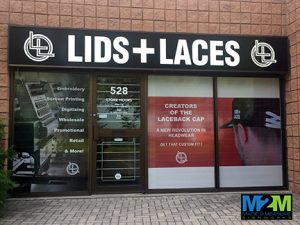 At Made 2 Measure Signworks, you are going to get a high-quality sign that is going to catch the eye of anyone who sees it. We design business signs that will help you grow your business and grow your traffic. We are a full-service Scarborough Township business sign manufacturer and we will be there from the very beginning of your project until the end.
We take care of everything, starting with a free consultation. We will install the finished sign and handle all the maintenance and repairs. Our shop is local and we only have the finest sign fabrications, graphic designers and installation specialists working for us. We are ready to get started on a sign that is going to make your more visible and build your brand.
Call Made 2 Measure Signworks at (647) 699-7654 for a Free Consultation with a Business Signs Specialist!
Commercial Building Signs
A storefront sign is the sign most companies invest in first.The building sign not only identifies your business, but when it is done right, you will have more traffic. A good sign helps build your brand and when the sign is attractive it will be the main thing that drives traffic to your business.
A commercial exterior sign is going to be essential when you are applying for a business loan and it is one of the best investments you can make when your business is new. We will create your building sign and we can also design signs that are meant to stand alone like pylon, monument and pole signs.




Matching interior signs are no problem since we are a one stop shop! Our Scarborough Township, ON commercial signage experts are here for you every step of the way.
Signs for Business Promotion
Not only do we handle business identification signs, but we also provide businesses with every type of promotional sign that you can imagine. Whether you need window signs, POP signage or vehicle wraps, we are ready to create it for you. We also create indoor banners, trade show displays, real estate signs and much more. If you need a promotional sign we have you covered!
Promotional signs have many uses and we will design them for you for inside and outside use. We can also design promotional signs that can be used on or off-site. We come to your Scarborough Township business for your consultation and we will analyze your current signage and come up with a plan to improve it so you end up with the right mix of signs that are going to grow your business.
Free Business Signs Consultation
At Made 2 Measure Signworks, we create attractive signs that are going to help you realize the goals of your business. Our support is superior and we have a short turnaround time. Our Scarborough Township business signs and graphics experts are easy to work with and strive to build long-term business relationships with every client we work with.
Call Made 2 Measure Signworks at (647) 699-7654 for a Free Consultation with a Business Signs Specialist!