Don Mills Window Graphics
VIEW GALLERY
Generate intrigue and excitement about your highest margin merchandise and services with attractive specialty window graphics!
If your business is offering particular services, you are looking to offer privacy for your visitors inside your business, or only hope to notify your potentially interested customers about why they should come inside, cohesive vinyl window graphics and signs get your company and brand seen and remembered.
Made 2 Measure Signworks is your leading local Don Mills vinyl window graphics company, designing engaging window graphics, clings, displays, and signs that promote your brand 24/7.
Call Made 2 Measure Signworks today at (647) 699-7654 for your Free Consultation!
Window Signs For All Businesses
Made 2 Measure Signworks delivers the most effective window graphics, lettering, and full displays for increasing business visibility. Our skilled sign experts provide unique window graphics that are cohesive with your current branding, are in-line with your business objectives, and get your unique message out to your clients.
Our window sign and graphics comprise of:
Full-Color Banners
Clings, and Posters
Cut Vinyl Graphics and Lettering
Entire Window Wraps
Frosted/Etched Privacy Window Film
& many more!




Our Don Mills, ON window sign specialists make sure that you get the customized signs and graphics that meet the needs of your business. We learn about your company and brand in order to make well-informed recommendations for custom signage solutions that go beyond expectations. Our team of experts are excited for the opportunity to reinforce your marketing goals with high-quality and attractive window graphics, signs, banners, lettering, wraps, and more.
Retail Window Graphics
It's no secret retail stores have a lot of energy and effort invested in their promotional custom window displays. A unique window display is fabricated to bring interested prospective purchasers in your business. When having a special promotion, event, or sale, or are looking to improve sales connected to a high-margin item; your window displays are a superb way to manage this.
Ordinarily, promotional window displays are changed regularly to show off the newest merchandise your company provides. Made 2 Measure Signworks is excited to offer irresistible window graphics, signs, and full displays to boost interest in your special sales and events and intriguing items in an exciting way designed to generate more new potential customers.
Privacy Window Vinyl For Offices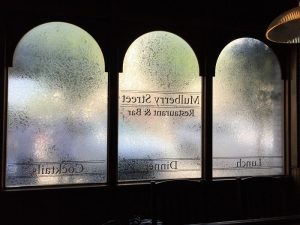 Office buildings, for example, law firms, counselors, real estate agents, service professionals, insurance brokers, and many other business types and niches, make use of long-lasting vinyl window film on their business facade windows for privacy, branding, or promotional purposes. Our dedicated staff of professionals produce privacy film that gives the same level of professionalism as an etched or frosted glass window panel, while avoiding the expense and hassle of entire glass panels.
Including your logo, company name, or other business identification into your privacy film is a perfect option for improving your corporate presence while maintaining appeal. Our local experts fabricate high-quality privacy film targeted specifically to your company and customers, or produce good examples of commonly chosen vinyl film possibilities so you can make an effective plan for your location.
Window Signs For Service Providers
As a service provider, you can still enhance brand and business visibility and entice more potential customers with an attractive custom window display! Let your business windows go to work for you with custom graphics, banners, posters, murals, or lettering displaying your distinct goods and services, specific deals, or even develop an attractive display that details just how your business can provide assistance for your ideal clients.
Our knowledgeable Don Mills custom signage manufacturers work with you to provide the right branded display that you desire. We manage production as well as attractive installation of your branded business window signs and graphics.

Free Window Graphics Consultation
Your dedicated signs, graphics, and full displays supplier, we deliver the window displays, signs, banners, lettering, posters, or graphics you need to build your brand awareness and increase new customer generation.
Call Made 2 Measure Signworks today at (647) 699-7654 for your Free Consultation with a Window Graphics Specialist!