Weston Dimensional Letters
VIEW GALLERY
Impactful, dynamic, and eye-catching, dimensional letters, signs, and graphics are an ideal solution for almost any business that hopes to catch the eye of potential new shoppers.
Dimensional letters, often times referred to as 3D letters or raised letters, are lettering or designs creating depth for your business storefront or interiors. This type of signage is molded, cast, fabricated, or cut from a solid sheet of sign material to obtain this look.
Dimensional signage offers precisely what smart company owners are hunting for: a cohesive branded look inside and out, attracting and helping potential clients and customers.
Made 2 Measure Signworks can attest that custom branded dimensional signage is a sensible solution for just about any company. Whether you run a hotel, office, hospital, etc., our dimensional letters will look good on and inside your Weston business.
Our custom produced raised letters are purposely developed for visibility in order to expand and improve your marketing reach. Made 2 Measure Signworks produces your custom signage using the perfect materials available in the market so after your dimensional lettering has been installed, they will keep promoting your brand and business for several years.
Call Made 2 Measure Signworks today at (647) 699-7654 for your Free Consultation!
Appealing Storefront Signage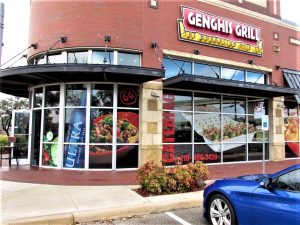 Eye-catching and intriguing, dimensional letters work very well for your primary outdoor sign. They add dimension, texture, and depth to your storefront, generating an attractive and professional look. The versatility of dimensional letters is also positive. Commonly fitted directly to the front of your facility, they are equally effective when utilized into pole signs, monument signs, and message boards. Channel letters are a similar alternative to dimensional letters.
Regardless that 3D letters are not illuminated from within, Made 2 Measure Signworks can also add halo lights, outline lighting, or lighting fixtures when installing your signage, so your letters are immediately spotted even at evening. With our custom dimensional letters, what you have to offer stands apart from your competitors and your unique branding message gets seen, consistently.
Attractive Indoor Lettering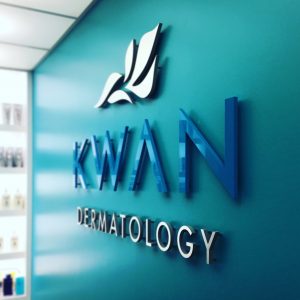 Dimensional letters aren't just for your Weston, ON business facade; they even give your business a professional environment as branded lobby signs. Have them installed next to your business waiting room and your corporate brand is likely to be the very first element your visitors take note of immediately when they step inside your business. Dimensional logo, reception, and lobby signs are very common, and they can be manufactured using a mixture of materials and mediums, with lighting upgrades, if required or desired. Dimensional letters could also be used as high-impact wayfinding signage and other signage for a tremendous influence in gas stations and retail stores.
Despite the name, 3D letters aren't restrained to merely letters! Your new signage can consist of logos, numbers, images, or a mix of those elements installed on the walls of your facility. Made 2 Measure Signworks's expert team of designers are excited to assist with generating indoor signs and displays designed to suit the distinctive originality and identity of your brand. If you want to create a unique dimensional appearance that definitely makes sure your branding can't be missed, Made 2 Measure Signworks creates dimensional signs and letters that speak the values of your brand.
Durable Dimensional Letters
Made 2 Measure Signworks fabricates your custom dimensional lettering and graphics from a lot of different materials and mediums that best match your brand. You can choose between plastic, wood, metal, and/or light foam for the main media for your signage project.
As a sign material, plastic is often selected mainly because of its versatility and includes polycarbonate, coroplast, PVC, and vinyl. The longevity and hardiness of plastic lettering allows it to be a perfect choice for outdoor dimensional signage. Metal is an exceptional selection for indoor letters mainly because of its stylish appeal, yet it is extremely resilient when used on your business storefront. Metal as a sign making material consists of brass, bronze, stainless steel, copper, and aluminum. A popular choice for colorful, large-format lettering, light foam is picked due to the fact that it is lightweight, sturdy, durable, and thick. Our experts can easily assist you with discovering the perfect commercial signage style and media to obtain your desired finished overall look without stretching your projected budget.
Full-Service Sign Company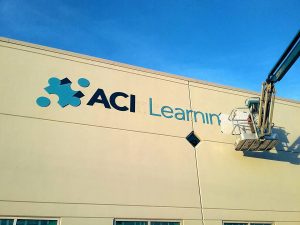 It isn't always easy to settle on the appropriate sign for your business. It normally takes experience, time, patience, research, and a time-tested production plan. With Made 2 Measure Signworks, you can be confident that you will not need to go through this alone. Our skilled staff of visual artists and sign manufacturers share their know-how to steer you all the way through the sign and graphic construction process.
Made 2 Measure Signworks is your trusted Weston full-service signs and graphics partner. Our specialists propose customized sign designs, we help you pick the perfect fabrication media for your business purpose and budget, and we make certain your signage is smartly mounted. Our specialists are just a telephone call away should you ever need any type of assistance with your custom signage.
Free Dimensional Letters Consultation
Made 2 Measure Signworks offers close to unlimited customization options for your company graphics, signs, and displays. When you are hoping to entice more potential buyers to enter your location, build your corporate branding, or make it easier for customers to navigate your space without help, our dimensional letters, images, and logos may be the perfect choice for your unique business needs.
Call Made 2 Measure Signworks today at (647) 699-7654 for your Free Consultation with a Dimensional Letters Expert!