North York Custom Signs
VIEW GALLERY
Looking for a personalized custom sign, wrap, or graphic for your business, event, or promotion? Made 2 Measure Signworks has the solution to all of your business and brand signage needs!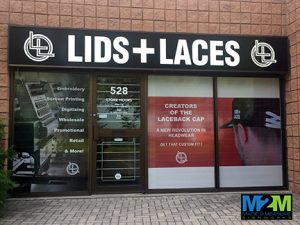 Made 2 Measure Signworks creates specialty and custom signage elements to fit your business based on your unique goals and ideas. We create custom graphics for your company, organization, club, or home, including custom address signs, banners, yard signs, and so much more. Our mission is to craft impactful custom signage that raises brand awareness and drives customer traffic to your business.
Having a sign professionally made is one of the best investments you can ever make for your business. Custom signs allow you to professionally display your business brand and personality, effectively catching the attention of potential new customers and drawing them into your business.
Our North York custom signage specialists deliver the ideal signs for your brand, needs, location, and budget.
Call Made 2 Measure Signworks today at (647) 699-7654 for your Free Consultation with a Custom Sign Expert!
Stand Out With Unique Signage
Stand apart from your competition and surrounding businesses with high-impact, attractive custom signage designed specifically for you. Made 2 Measure Signworks is your local signage provider for all of your business needs and goals. We create signs to attract your target audience, raise brand awareness and support your business growth.




Made 2 Measure Signworks employs specialists who use your vision to create impactful signage elements. Our designers are experienced in interpreting thoughts and ideas and bringing them into reality. Regardless of the style you want, we create everything from branded vehicle wraps, custom storefront signs, lobby logo signs, vinyl graphics, and personalized event signage for both on and off-site use. Whatever your ideas may be, let the North York custom signs and graphics experts at Made 2 Measure Signworks help you turn your ideas into reality!
Designed For Your Brand & Business
A customized sign helps establish you as an expert in your industry and eliminate brand confusion. Custom signage also helps to manage your customer experience and create favorable impressions to those passing by. Create a cohesive signage blend starting from the outside of your facility and carried throughout the inside with complementary, branded elements.
This consistency lends professionalism to your company and reinforces your brand to all visiting guests, clients, and customers. Whether you need a wall mural, lobby logo sign, or storefront signage, Made 2 Measure Signworks is your partner for impactful custom signs.
Whether you have one facility or multiple, Made 2 Measure Signworks will create the perfect customized signage solution for your business needs and goals. There are virtually unlimited options when it comes to customizing your signs to promote business growth and market reach. Our knowledgeable staff listens to your ideas, needs, and goals, and makes recommendations based on your location, physical space, and the functionality of your sign
Our custom specialty signs include:
All of our exterior and interior signs are custom crafted to suit your technical specs, location, and desires. Regardless if you need a single sign, multiple copies of one sign, or magnitude of different signs, we have the tools, skills, and resources to create the perfect sign to fit your needs. Custom signs are the best way to display the personality of your business and drive target traffic your way. Our mission is to create the type of signage you need to capitalize on missed opportunities, convert potential buyers and retain current customers.
Our Custom Sign Process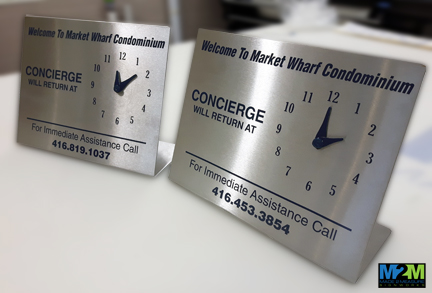 Custom specialty signs are a fantastic way to inform the general public what you do and who you are. Our expert designers will help you get exactly what you need from your sign. Will will discuss your goals and ideas, make recommendations, and begin to form a mental image of what your project will look like. Our designers will create a design proof for you to review and make edits. This allows us to ensure that your signage project looks exactly as you wish and fits your brand personality.
Once you've approved of all changes, our experienced sign fabrication staff will begin prepping and creating your signage elements for installation by our expert sign installers.
Our staff enjoys working with custom signage, as it allows them a chance to show you the full range of their talents. When you need a North York custom signage shop trust Made 2 Measure Signworks to provide superior signage solutions for all of your business needs!
Free Custom Signs Consultation
We provide the technical skills and support required to fabricate the custom signs you need. Whether you need help with your design concept or know exactly what you want, our team is here to support you. Made 2 Measure Signworks is your go-to North York custom signage provider of attractive, high-quality custom signs designed to garner more traffic and visibility for your business and brand!
Call Made 2 Measure Signworks at (647) 699-7654 for your Free Consultation with a Custom Sign Specialist!